The York Catholic District School Board is preparing to mark Bell Let's Talk Day on Wednesday, January 26, 2022. This year's Bell Let's Talk Day campaign highlights the ways that we can support ourselves and those we care about through actions like listening, being there and talking. As we continue to focus on action to increase awareness around mental health and mental illness, we encourage all staff, students and families to keep listening, keep talking and keep being there for ourselves and each other.
On Bell Let's Talk Day, Bell will contribute 5¢ for every applicable text, call, Tweet or TikTok video using #BellLetsTalk, social media video view and use of its Facebook frame or Snapchat lens.
Bell Let's Talk is focused on four key action pillars:
Anti-stigma
Care and Access
Research
Workplace Leadership.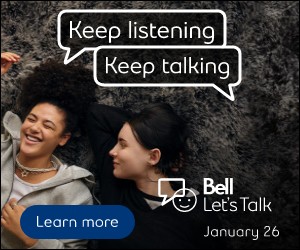 Since 2010, Canadians and people around the globe have joined in the world's largest conversation around mental health on #BellLetsTalk Day. Together we have taken big steps to reduce the stigma around mental health issues and inspire one another to take action and help create a Canada where everyone can access the mental health support they need.
Bell Let's Talk has partnered with more than 1,300 organizations providing mental health services throughout Canada, including hospitals, universities, local community service providers and other care and research organizations. To learn more, please visit Bell.ca/LetsTalk. By joining in and taking action, we are all helping to make a real difference! Bell's Conversation Guide and Mental Health Pocketbook are also useful tools! To learn more about York Catholic's mental health initiatives, please visit our Mental Health page or follow @YCDSB_MH on Twitter.