Starting Kindergarten is an exciting time in a young child's life, filled with new experiences and opportunities to learn and grow. Kindergarten registration at the York Catholic District School Board is now open for the 2022-23 school year that starts in September.
Children must be four years old by December 31, 2022 and born in 2018 to register in Junior Kindergarten, or five years old by December 31, 2022 and born in 2017 to register in Senior Kindergarten.
York Catholic's Kindergarten program teaches children through inquiry and play-based learning methods. Teachers and Early Childhood Educators work together in Kindergarten classrooms to support the unique needs of each child.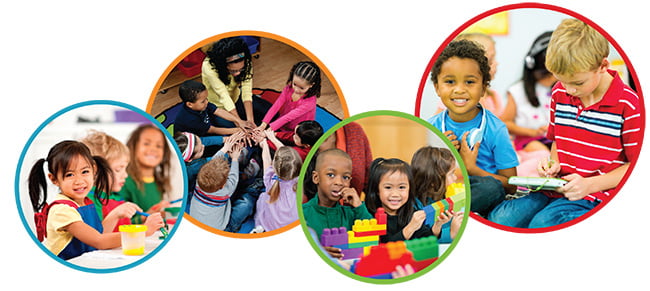 Children explore their world through play and real-life experiences. In York Catholic's Kindergarten program, students actively engage in problem-solving and inquiry in an atmosphere that fosters fun and cooperation. The Kindergarten program helps children develop a solid foundation for their future learning and growth by supporting their spiritual development and enhancing their social, emotional, cognitive, language and academic skills in a faith-filled, safe, caring, nurturing and fun environment.
The York Catholic District School Board offers the French Immersion program at 15 elementary schools, and five high schools throughout York Region. The program aims to provide non-francophone children with a high degree of proficiency in the French language. Although the curriculum is the same as in the English-language program, the language of instruction for most subjects is in French in the primary grades.
York Catholic's elementary French Immersion program begins in Grade 1 and is a prerequisite for the Board's secondary French Immersion program. Children born in 2016 who will begin Grade 1 in September 2022, are eligible for the program. Parents need to apply to the program by January 21, 2022.
Students enrolled at a York Catholic school also benefit from STREAM (Science, Technology, Religion, Engineering, Arts, Mathematics) learning. The Board has six STREAM Centres of Excellence which serve as YCDSB teaching and learning hubs where students can engage in innovative learning in subjects such as Design Thinking, Robotics, Coding, 3D Printing, Virtual Reality, Experiential Learning and Cross-Curricular Learning using Technology.The six STREAM Centres of Excellence are located at All Saints CES in Unionville, Corpus Christi CES in Richmond Hill, Divine Mercy CES in Maple, Our Lady of Grace CES in Aurora, St. Agnes of Assisi CES in Woodbridge and St. Stephen CES in Woodbridge.
Parents and/or guardians can register their child for Kindergarten online and will need to upload the supporting documents listed below, following their online registration submission. Parents of students currently attending Junior Kindergarten at a York Catholic school do not need to re-register for Senior Kindergarten.
Parents and/or guardians can look up the Kindergarten program in their area by using York Catholic's online school locator, or by calling the Admissions Department at 905-713-2711 or 416-221-5050.
The following supporting documents are needed to register for Kindergarten:
A baptismal certificate from a Roman Catholic Church or a Catholic Church in Communion with the Holy See of Rome (child or parent)
Proof of child's age
Proof of status in Canada
Proof of residency
Proof of Separate School Support (e.g. MPAC Assessment Notice, or a completed Direction of School Support)
The Board's Student Services Department will host a virtual Information Session for Parents of Children with Exceptional Needs who will begin Junior Kindergarten in September. The information session will review the various special education programs and services that the Board offers. The information session will take place on January 27, from 7 – 8:30 p.m.  Parents and/or guardians must register to attend by January 25.
To learn more about York Catholic's Kindergarten program, please visit our Kindergarten page.